If you're stopping by from The Cupcake Diaries Blog, Welcome! My name is Jes and this is my little space on the web. I blog about my family, recipes, DIY projects, and photography. You can read more about me here.
I love all things fall. It's the perfect temperature for sweaters and scarves. Let me clarify, I like fall, not winter! Who's with me? One thing I love about fall is all of the yummy treats! Grandma's treats in particular! She has this trail mix that can easily be adapted for any holiday by just changing the candy pieces. So of course I asked her for it and of course I regretted it. No wonder it was so good. The recipes called for karo syrup, food coloring, and other ingredients I wasn't too sure about. So many ingredients I didn't have and knew I wouldn't use again. I decided to make my own recipe!
So what makes my trail mix different then all the others on Pinterest? For starters it's simple! Those who know me know I need simple! I also wanted to make a smaller batch. Most of these mixes on Pinterest make a huge batch and I didn't want to be guilty of eating all that yumminess! We had enough to share with the neighbors and some for dad to take to work. This left me with more than I should have eaten but a lot less than I would have had with other recipes.
I did find Brodie sitting in the middle of his bedroom floor with his back to me. He was able to reach the trail mix bag and was munching away happily!
Let's get started!
Sweet & Spooky Trail Mix
Sweet and Spooky Trail Mix - 30 Days of Halloween
Perfect holiday treat! Just change out the candy for Christmas, Valentine's Day or just about any holiday!
Ingredients
5 cups Cheerios
3 cups Mini pretzels
2 cups Peanuts
1 cups Reese's Pieces (or 2 cups!)
2 cups Candy corn
1 bag White chocolate chips
Coconut oil
Cinnamon (just a sprinkle amount isn't that important)
Instructions
Line a jelly roll pan with wax paper.
Spread out Cheerios, mini pretzels, peanuts, Reese's Pieces, and candy corn on jelly roll pan.
melt white chocolate chips with coconut oil and cinnamon (about 2 minutes in 30 second increments).
Pour melted chocolate over trail mix and turn over with your hands until mixture is thoroughly coated!
Let cool and enjoy!
Every few minutes give it another toss so melted chocolate doesn't find it's way to the bottom.
I'm sharing this recipe as part of  "30 Days of Halloween" on Cupcake Diaries.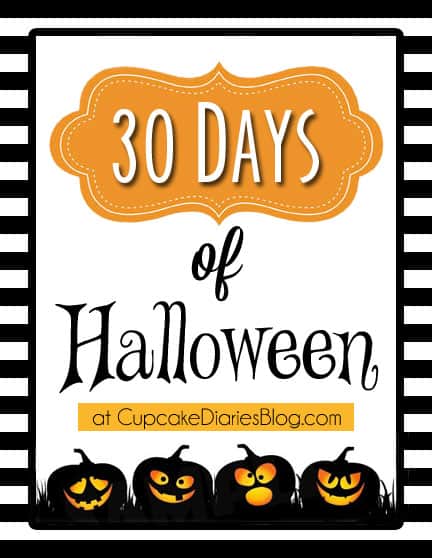 The following two tabs change content below.
Hello! My name is Jes and I am a wife, a mother, a Netflix lover, and I love chalk painted furniture! With the help of friends (and Pinterest) I discovered my love for chalk painted furniture and home decor. It's easy to make your own chalk paint and I show you how!